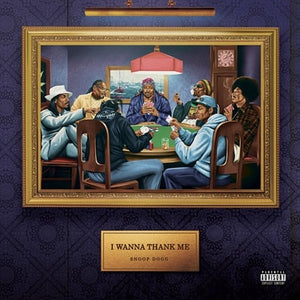 RELEASED: OUT NOW

GENRE: Hip-Hop, Rap
FORMAT: 2 x LP, Gold Nugget Vinyl, Gatefold Sleeve

CAT No: ERE531

RELEASED BY: Empire
Originally released for RSD2020.
Snoop returns with his seventeenth studio album. The 22-track set boasts a wide-ranging tally of writer / producer collaborations and guest cameos that includes DJ Battlecat, Jazze Pha, Swizz Beatz, Swae Lee, Chris Brown, Mustard, Jermaine Dupri, Anitta, Ozuna, YG, Slick Rick, Trey Songz, Russ, Rick Rock and Wiz Khalifa.
The musical emporium that flourishes on Snoop's latest is a testament to his birthright to bar out on mics (indulge in the spacey Focused for reference), drop insightful gems (see the scared straight anthem New Booty) or flat-out entertain (much of the 22-track opus).
TRACKLISTING:
What U Talkin' 'Bout

So Misinformed (Feat. Slick Rick)

Let Be Bygones Be Bygones

One Blood, One Cuzz (Feat. DJ Battlecat)

Countdown (Feat. Swizz Beatz)

I C Your Bullshit

Turn Me On (Feat. Chris Brown)

Blue Face Hunnids (Feat. YG & Mustard)

New Booty

Take Me Away (Feat. Russ & Wiz Khalifa)

Do It When I'm in It (Feat. Jermaine Dupri, Ozuna & Slim Jxmmi)

First Place (Feat. Tdot Illdude)

Focused

Rise to the Top (Feat. Trey Songz & Swizz Beatz)

Wintertime in June (Feat. Nate Dogg)

Doo Wop Thank Me (Feat. The Hamiltones)

Main Phone (Feat. Rick Rock & Stressmatic)

Do You Like I Do (Feat. Lil Duval)

I've Been Looking for You (Feat. Eric Jaye)

Little Square UbitchU (Feat. Anitta)

Ventalation (Feat. RJmrLA, $tupid Young & Azjah)

I Wanna Thank Me (Feat. Marknoxx)