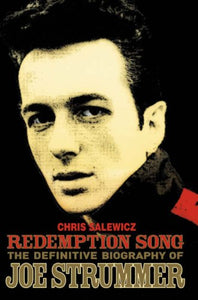 Chris Salewicz was a close friend of Strummer from 1977 until Joe's death in Christmas 2002 shook the world. With full approval and cooperation of relatives, companions and fellow musicians, he writes the definitive account of British rock 'n' roll's most fascinating of idols. An honest tribute to Joe's life, work and huge worldwide impact.
The Clash was the most influential band of its generation, producing intelligent punk anthems such as 'London Calling', 'White Riot' and 'Tommy Gun'. Rolling Stone voted 'London Calling' the best album of the 1980s and for many they remain iconic mainstays of their generation. With his talent, good looks and laid-back attitude Joe Strummer was the driving force behind the band and the archetypal front-man of a punk band.
In recent years, apart from his own band, The Mescaleros, Strummer played with The Pogues and featured in several films, including Alex Cox's 'Walker' and 'Straight To Hell', and Jim Jarmusch's 'Mystery Train'.
Joe Strummer's untimely death in December 2002 shook the world and cemented his iconic status. He received extraordinary tributes from musicians around the world. Billy Bragg said: 'The Clash was the greatest rebel rock band of all time. Their commitment to making political pop culture was the defining mark of the British punk movement'. Bono is quoted as saying: 'The Clash was the greatest rock band – they wrote the rule book for U2'.
This book is an emotional and compelling account of Strummer's life, and a comprehensive insight into the man behind The Clash. Chris Salewicz is better placed than anyone to write about Strummer's life, his work and his huge worldwide impact. Both Strummer and The Clash transcended music stardom to become heroes to their fans and peers – this is an honest tribute to them, and the best and last word on the subject.