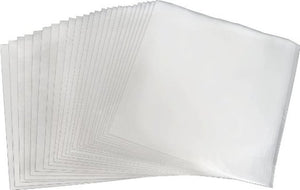 We are discontinuing our 170 MICRON GLASS CLEAR POLISHED MATERIAL PVC RECORD SLEEVES. We have a few Gatefold PVC sleeves remaining.
They have been replaced with CRYSTAL sleeves which are Acid Free - Why risk PVC gatefold sleeves, which can let off GAS and damage your precious vinyl? Our CRYSTAL sleeves are ACID FREE and will protect your collection for decades to come.
They are also thick yet supple and won't crack or split like PVC.