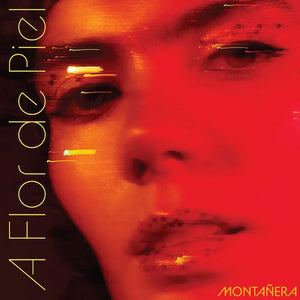 Released: 17/11/2023
Format: LP, Black Vinyl  
Label: Western Vinyl
Cat no: WV260LP
A Flor de Piel, the new album from singer- 6 songwriter and composer Maria Monica Gutierrez (aka Montañera), is a meditative journey of self-discovery across oceans, time, and the traditional confines of genre. Originally from Bogota, Colombia, Gutierrez began the album as a way to explore her identity after a difficult move to London left her feeling untethered in a strange new place. The result is an examination of the immigrant's experience through a rich sonic lens of ambient pop textures, inspired by sources as disparate as Colombian traditional music, traditional Senegalese music, and whalesong from the depths of the Atlantic. The album begins with the title track "A Flor de Piel," Gutierrez's indelible vocals floating above a vast expanse before being joined by deep, silky bass and the plucks of a koto-like stringed instrument. "The song was inspired by traditional Japanese music," Gutierrez explains, "It's about making my heart a little lighter; I know that inside of me I can be as light as mist in heat, I can be fragile as the song of a sparrow." That sentiment perfectly encapsulates much of what makes A Flor de Piel so special. The album comes with a message of healing for all people, without forgetting the centuries of struggle and hurt that form the bedrock of modern society. The track "Santa Mar," for instance, is inspired by the musical traditions of afropacific women in Colombia, and the crucial role that they play as peacebuilders in the region. Backed by a hypnotic beat, the song features contributions from marimba player Cankita, alongside Las Cantadoras de Yerba Buena, an all-female vocal group that utilizes traditional Afro-Colombian music to preserve their history and promote peace. Standout track "Como Una Rama" is a futuristic take on bullerengue, a traditional style of music and dance originally developed by Maroon communities on Colombia's Caribbean coast. Deeply affecting, the song combines Gutierrez's indomitable voice with electronics that recall Steve Reich's rhythmic minimalism. "Cruzar," the final track on the album, feels almost like a lullaby, with a meditative harmonic style and trance-like vocal melody. "The lyrics," Gutierrez explains, "are a personal reminder of what is important to me: healing, letting go, breathing, evaporating, forgetting, changing, crystallizing." Across the 40-odd minutes of A Flor de Piel, Gutierrez triumphs at recontextualizing traditional sounds and sentiments into a modern form using synth-based and electronic textures. It's a fitting representation for the personal struggles that the artist endured during her move to London. Rather than dwelling solely on the past Guitierrez uses A Flor de Piel to summon the strength of past generations, and forge a new path forward. As she describes it, "The album has accompanied me through inner journeys of finding myself in a new territory of redefining myself, of remembering who I am in a strange place." As we drift towards an increasingly frightening and uncertain future, perhaps Montañera's A Flor de Piel is exactly what we need: something to give us strength, to bring us peace, and to accompany our journey into a strange new place.